Lovebird is a most known bird for the synonym of love pair or couples which represents true love, it is a wonderful phrase mentioning bird as example. The proverb comes along for long time because when someone takes their photos always seems like they are feeding each other and cuddling. In this article you will learn all the facts about lovebirds such lovebird as pet, lovebird taming, food, cage, lovebird lifespan, breeding and so many.
So maximum photos shown their love and affection to their mate. I think they have more loyalty than any birds or animal have in one life.
I am a bird lover, I pet many birds like finch, parakeets, cockatiel, pigeon but love bird is exceptional they have so much affectionate for the mate.
For other bird I can switch their pair anytime I want take a little time to adjust but succeeded to pair up. But lovebird act crazy when you try to change their mate and become aggressive. That's the only one reason to named after lovebird actually true lover.
Lovebird
Lovebird genus name is agapornis which for Greek word 'agape' means love and 'ornis' means bird. The bird is actually famous for its monogamous behavior, once they set pair with their mate means to bond forever with lifetime. It is hard to separate them, if divorce happens or die, the aftermath equals not so great behavior may act like crazy.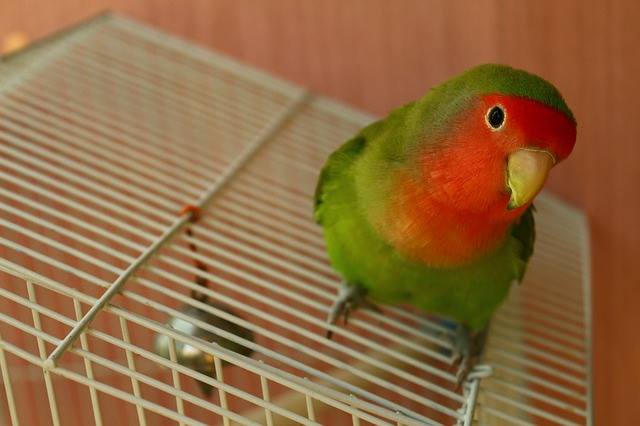 Native region
Africa is the native region place of lovebird, there all the species common in wild area. Now we can get anywhere because people love it and keep as a pet or breed them. Only one bird species Madagascar is from the island of Madagascar.
Size
Love bird has a unique and strong pair that kind of love no one ever had have from my dictionary. The bird is not so big as like other parrot only 5 inches to just over 6 and half inches. You can say small version of parrot. Now mutation changes many of things to develop the quality of color and size.
How many species
There are nine species of lovebird which is quite similar to one each other with a little difference. The shape, color, behavior, marking is the fact to separate them with their different names and species.
But not all the species are good pet for us, common facts of lovebirds is the peace-faced is most favorite and common pet all around. The masked face and Fischer's lovebirds are also available and beautiful creature you will find out. Some of them are vulnerable endanger level, Fischer's, black cheeked, Nyasa are very listed.
The peach faced lovebird or Rosy faced
The Fischer's lovebird or Fischer
The Nyasa lovebird or Lilian's
The Black cheeked lovebird or Nigrigenis
The Yellow collared lovebird or Masked
The Black winged lovebird or Abyssinian
The Red headed lovebird or Red faced
The Grey headed lovebird or Madagascar
The black collared lovebird or Swindern's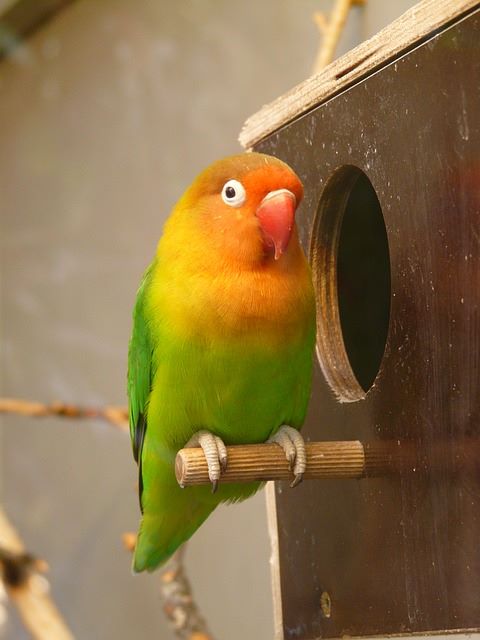 Lovebird as pet
The bird is social and playful, hang some top toys and talk with it to teach some steps on regular basis. Lovebird is one kind of small parrots, having all the natures of one proper big parrot.
You can pet the cute bird conveniently, but have to buy on early age or chick time. Because it is hard to tame when they become mature, to handle is difficult. One single bird can easily tame but two of them will divert from taming and will engage with pairing each other and cuddling.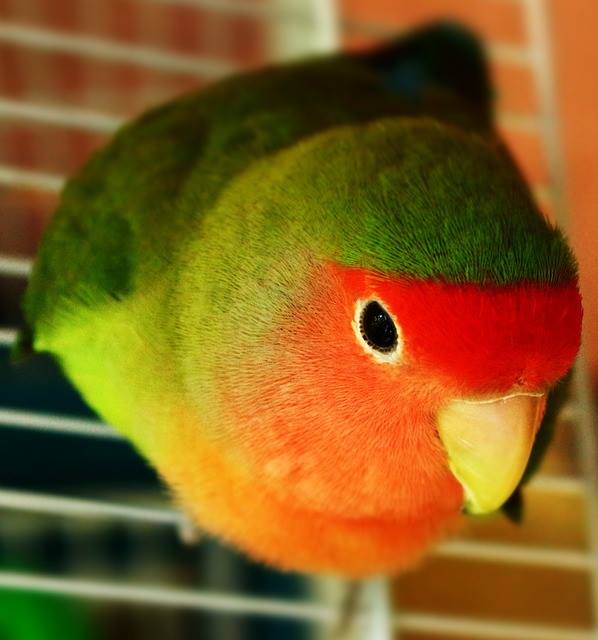 Lovebird taming
Lovebird is not so talkative, chatting pet so you have to be patience with the bird. Little whistle, some mimic, whistle is the range of its and the bird is not noisy. At first make friendship and talk to hear repeatedly, the bird is so moody it will response if they want otherwise silence offers politely.
Lifespan
Lifespan of a lovebird is 10 to 15 years and even in longer period in some cases. Taking good care of health and giving nutritious food serves a better lifespan for any kind of pet.
Where to buy
To collect from a farm or breeder is the wise decision without any tension of germs or bacteria. Pet store keeps various lovebird species although there are many kinds of pets some of them might be sick and it can be contagious.
For this reason, we recommend not to buy from pet store otherwise if you are expert to detect the real fact that's fine.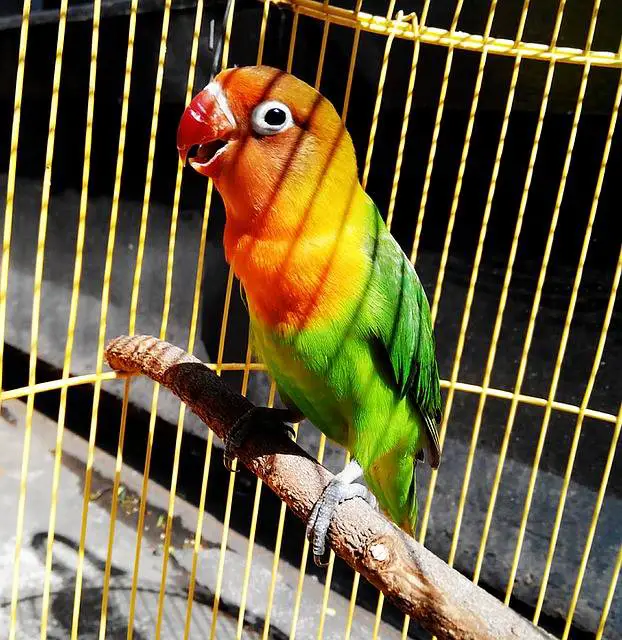 Lovebird cage
Lovebird loves to stay in large space, so make sure cage space is enough for the bird. You can afford it according to your budget. The wood perch, hanging toy, bowl to feed are essential things in a cage.
Different model and design found on the market you can watch what is the suitable for you. Small cage make ruin their freedom and change their behavior. Large cage is more spacious to fly like wild so that you can have the charm of flying.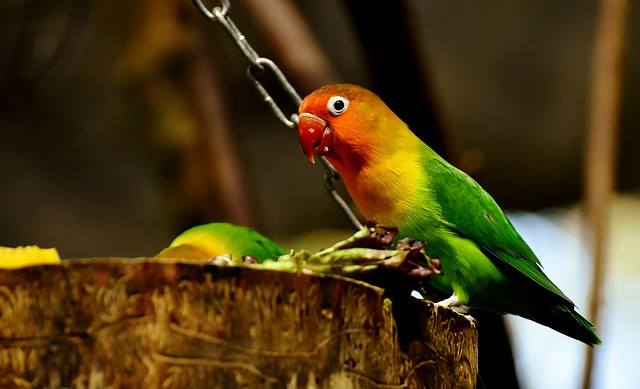 Lovebird food
Lovebird eats fruit, vegetables, seeds, grasses to get vitamin and mineral. Make sure to give them all the supplemental food lovebird should have to maintain. In farm we observe breeder force them to eat all the foods what is beneficial for their health.
Keep the food over and over, they will eat quietly. Fresh and clean water must be given twice a day, when the water becomes filthy change immediately. Dirty water spreads germs when they drink so be careful with that issue.
Male/Female detection
The toughest thing is to detect the gender of lovebird which is male and female from the pair. Because they look like similar and do same activities, how do we confirm which is the male one or female.
In our research the female strip papers on adult time and very obsessed with cage. The male bird feeds female to cuddle up. Sex determination test is another way of confirming male and female of lovebird. The female bird also larger than the male and has wider pelvis parts to lay eggs.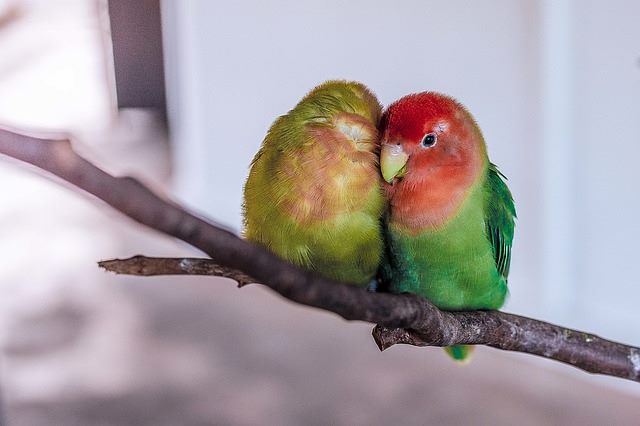 To breed lovebird
If you want to breed lovebird set a pair of male and female of lovebird. They love to live as a pair in small flocks. In a corner of cage make a small flock to lay eggs.
The age of breeding pair will be at least 10 months. In this age time it becomes more mature and perfect to lay eggs and fetch them. The eggs incubate in 17 to 24 days and lays 5-7 eggs.
Lovebird chick and parenting
Lovebird hatches egg but cannot feed their babies, that is one of panic things because you have to feed them by hand until chicks become old enough to eat by themselves. The pair tried their best but fails within a little time so try your best to feed on daily basis.
That's the hardest part of having breeding pair. To watch some lovely chicks, you must be prepared to become parent at least for some days.
Health and care
Take your lovebird to the vet once a year and give them essential supplements suggested by vet. Regularly clean cages and spray germ free liquid on it.
Have a good care of notorious supplements, breeding pair needs mineral, vitamin, lipid, calcium, biotin, zine etc things. Take advice from vet how you will give them and how much the quantity will be.
Make sure they get enough sunlight to generate vitamin D, after laying eggs the female falls very short of vitamins and minerals for that reason vitamin D must be given by naturally or supplementary.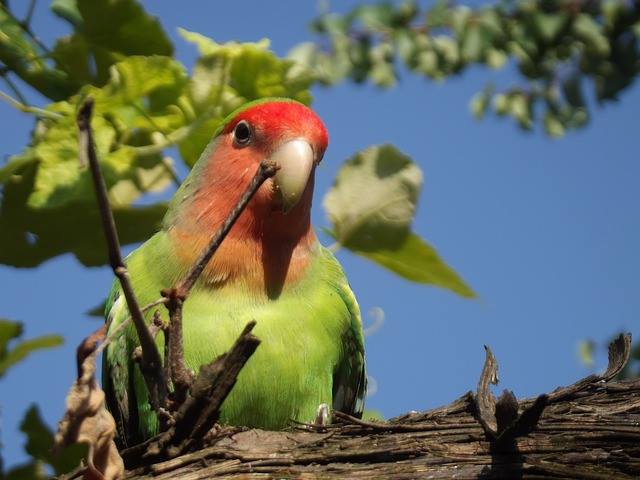 Get a lovebird
Lovebird is not as noisy like cockatiel or parakeets, they are a bit quite than others. The astonishing color and little parrot quality attracts anyone.
Spending time with lovebirds refreshing and cheerful. Everyone should pet bird to have a great time besides they are social if you can interact with them they will response like child, its amazing.