When you think of low-maintenance pets, many people naturally turn towards cats. Aloof, not very demanding (unless they want the attention) and generally neat, cats are exceptionally fun and very neat.  However, cats also have some odd but perfectly normal habits too.
The biggest one is that from time to time, your cat may develop hairballs. This process is never easy for the owner. It's accompanied by a lot of hacking, coughing and your cat may start to throw-up. While throwing up hairballs is a natural part of cat behavior, they can cause complications, especially if your cat is old. Hairballs can end up getting stuck in their throats, obstructing their ability to breathe. When this happens, your cat may need help in getting rid of hairballs or it may start to display odd behavior.
In some cases, veterinary assistance may be necessary before the issue gets addressed. It can be very stressful to see your pet suffering while you wonder "how can I help my cat pass a hairball?"
Before the issue develops to that point, you should learn how to help cats with hairballs. It's going to ensure that you can avoid any mishaps that may place your cat in any danger.
Why Do Cats Develop Hairballs?
Cats are among the few animals that self-groom persistently, and they naturally swallow their fur. This is completely normal behavior for your cat. Cats have small hooks on their tongues that end up trapping all the loose hair they are shedding and grooming off themselves.
It might sound odd, but this is normal behavior. If your cat stops grooming itself, you should get worried. Additionally, the hair they swallow passes out through their digestive system in their waste. Unfortunately, there are some scenarios where the hair gets obstructed and is then vomited out. This is what causes the classic, coughing a hairball scenario.
Which Breed is More Prone to Getting Hairballs?
All cats can get hairballs, but some long-haired cats can get hairballs more frequently than short-haired ones. This is because long-haired cats generally have more hair which is thicker and longer than short-hair cats. This hair doesn't always get removed in through the waste and the cats have to cough it up.
The following is a small list of cat breeds that are prone to getting hairballs:
Persians
Maine Coons
Himalayans
Norwegian Forest Cats
Birman
Turkish Angora
Balinese
Other breeds or mixed breed cats that are long-haired may also be more prone to hairballs. Moreover, cats with medium-length fur coats may also get hairballs frequently but not as commonly as long-haired cat breeds.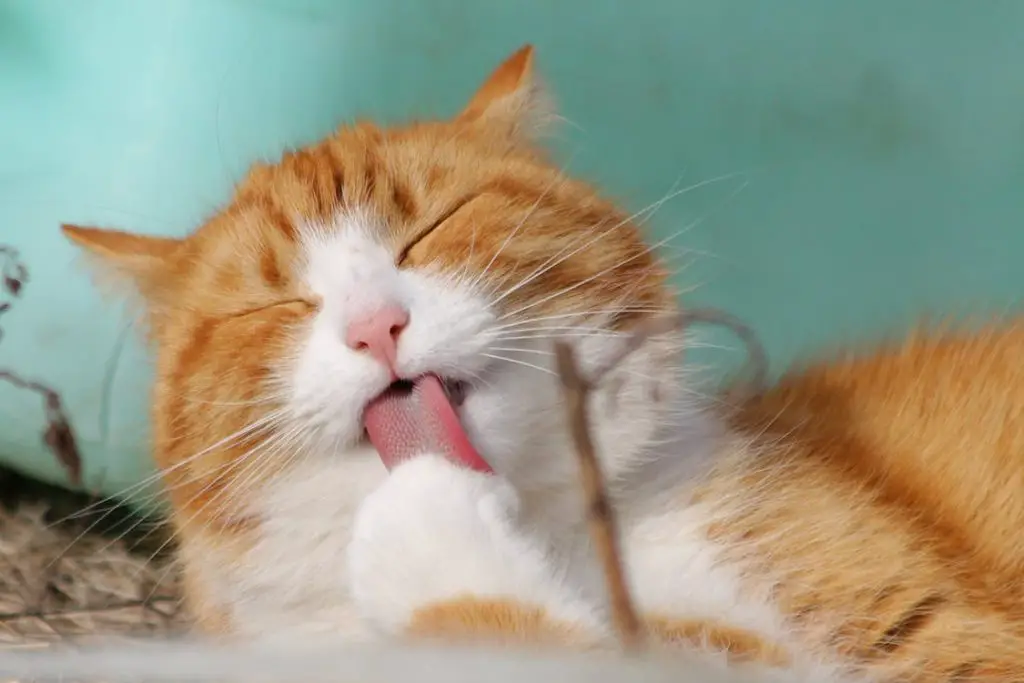 When Do Cats Need Help in Getting Rid of Hairballs?
While cats naturally tend to get rid of the hairball without any issues, there might be times when the hairball gets stuck. Even if the hairball is shaped like the esophagus of the cat, it is still an object that is obstructing the cat's ability to breath and feed.
In this case, and the following scenarios, where your cat may need your help in getting rid of hairballs that are stuck:
Lethargy
Since the hairball is preventing the cat from eating or feeling well, your cat may be slow and uninterested in normal activities.
Not Eating Food
If your cat stops eating food, it's a major sign that you should worry about. A hairball may be obstructing and causing digestive issues in the cat, and you might have to take your cat to the vet.
Having Trouble Breathing
Cats can also have trouble breathing when they have a hairball stuck in their throat. During this time, your cat may wheeze, hack, cough, or try to regurgitate the hairball out. If they're not having any luck doing this, you might need to take them to the vet.
Always take your cat to the vet when they are behaving out of character. A vet is the only one who is capable of properly evaluating the health of the cat and determining the true cause. Other conditions also cause these symptoms in cats.
How Can I Help My Cat Pass A Hairball?
Now that you know that your cat is dealing with a hairball, it's time to learn how to help cats with hairballs.
If you're wondering how can I help my cat pass a hairball? Then, the following are some helpful remedies:
Give it Some Oil or Butter
Give your cat some oil or some butter to lick. The oil or butter will coat inside of the mouth, throat, and the hairball, acting as a lubricant. This will help your cat to expel the stuck hairball without any issues. Always make sure that you offer butter or oil that has no additives or ingredients that may be harmful to cats.
Try Hairball Gels
You can also give your cat hairball prevention gels. These are designed to not only keep hairballs away but also aids the cats in getting rid of hairballs. Adding this to your cat's diet will ensure that your cat stays healthy and happy.
Our Recommendation – Nutri-Vet Feline Natural Oil Hairball Paw-Gel
(Click Image to Learn More)
Delicious, tasty and very helpful, your cat won't say no to this treat. It's formulated by veterinarians and contains a mix of natural oils that lubricate any formation of hairballs. The tasty gel-like paste can be dabbed on to your cats' paw and they'll eat it without any complaints!
Use Treats that Get Rid of Hairballs
Certain cat treats also have anti-hairball formulas. These can help prevent the development of hairballs and also allow the cat to get rid of any that are forming. It's a good idea to give these in moderation. They're not meant as regular treats and can cause your cat to throw up.
Our Recommendation – Greenies Feline SMARTBITES Hairball Control
(Click Image to Learn More)
Available in various flavors, Greenies Feline SMARTBITES hairball control treats are extremely effective. Giving your cat one or two treats per day is more than enough to keep hairballs at bay. In cases where they are having trouble getting rid of hairballs, increase the number of treats to induce your cat to vomit.
These are our top suggestions for how to help cats with hairballs. If you have your own remedy, make sure to let us know about it!