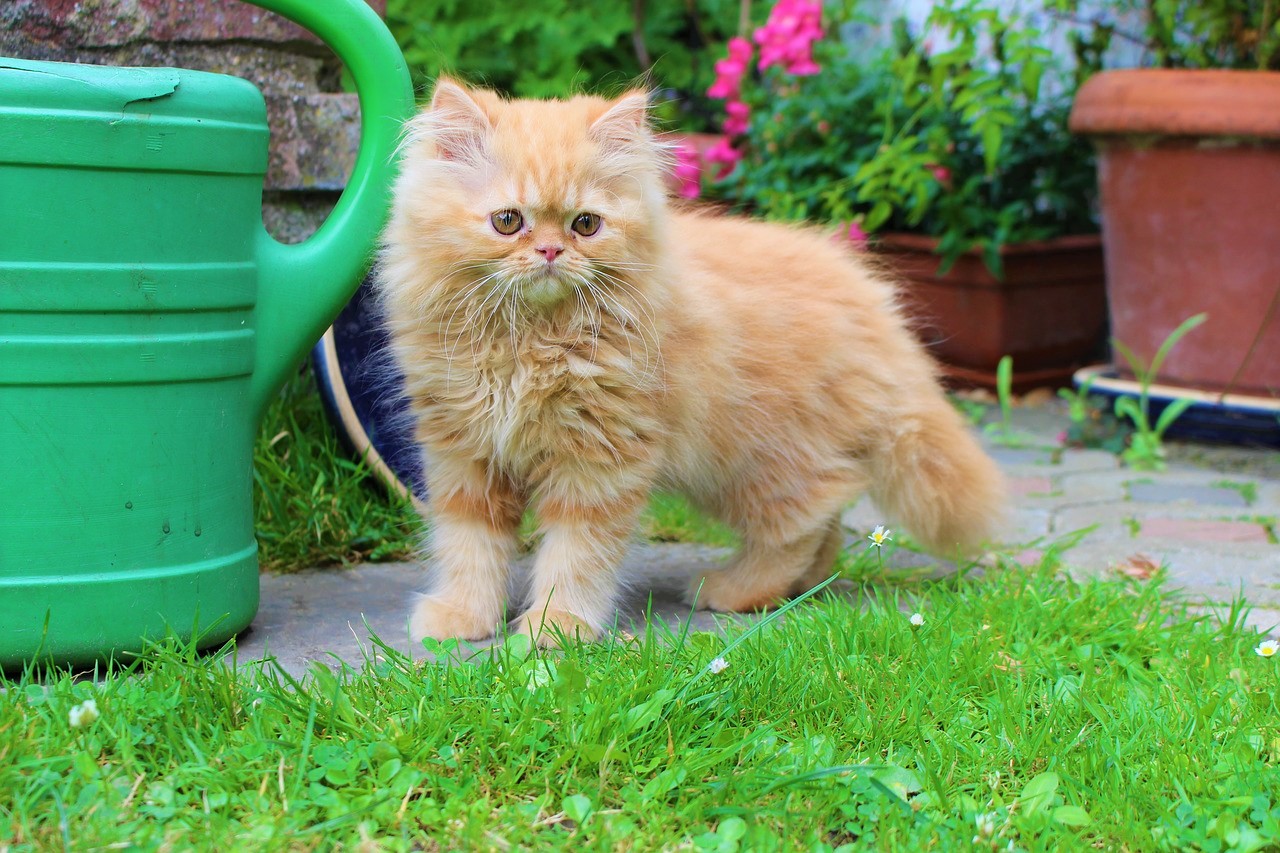 It's hard to find who didn't watch a single mischief video of cat at least once in their life, because their activities and playing styles are so adorable and exciting. Researcher found that having a cat is like staying with your pain healer and companion to play with. I have a cute female Persian cat, for my reader I compiled a list of cats which most popular cat breeds in the USA.
Yes, if you get a cat there are so many benefits even you can't imagine at all. It makes you to sleep well why because spending time with makes you peace and calm that leads to sleeping mode. Other found its good for human heart and mind. (Check out the Best Cat Food for Sensitive Stomach for healthy nutrition for your pet cat)
Its actually happens believe me I am one of the great admirers of cat myself. Some may curious which breed they have in their house and how to take care of them then this article is beneficial for cat lover.
I had no cat before one incident that I adopted a homeless cat from the street. Back then I thought it just a couple of days until it gets totally healthy. Then I would put a safe place or thought to give a rescue place. Let me tell you guys one thing the cat was a kitten and so sick, almost it took a week to recover well.
When the kitten felt well he started to play with me as though he only known me for couple of days but treats like known forever. After spending a lot of times, I just felt in love and can't rid of anymore, now he is adult cat and love to dominate other cats in my home and proudly tell them I am her first lover.
That's the journey of my cat pet, after that I adopt so many cats since then I dreamed of a Persian cat. I had and have now other bunch of species cat but no Persian, hope one day I get one too.
The Most Popular Cat Breeds in the US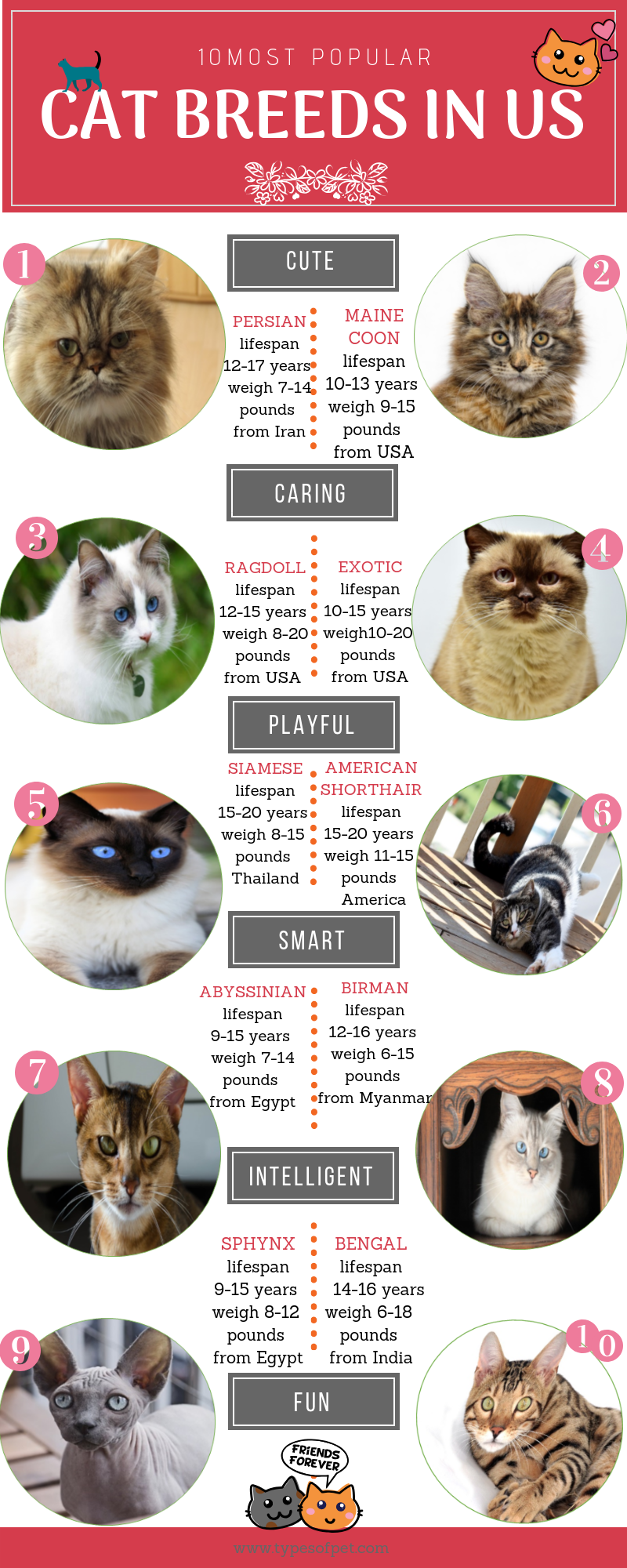 Persian
Persian is the popular cat breeds because of their cute, flurry and fluffy looking image. Persian name comes from their origin place Iran also known as Persia. I really fond of everything that originated in Iran because they have such a glamorous tradition and lifestyle.
Of course, their cat breed also popular in whole world class natures quality pet. Persian looks like smashed faced, nice and beautiful smooth, nice fur coats.
They come in different color variation depending wherever you are trying to adopt them. It has the most flatten face above all the cat species and their long fur needs regular grooming.
Persian is also significant for their appearance in commercial ad, movies and art throughout the year and symbol of lovely cat from decades. It lives pretty long time 12 to 17 years and weight between 7 to 14 pounds. They love human interaction and play with kids, their kitten is the most adorable baby to have.
Maine coon
Maine coon is another very large furry coats cat that needs regular grooming. It is one of the popular cat breeds in USA which undoubtedly cute and gentle giant. The cat can be great companion in snow because their fur coats protect them from getting too much cold.
It has large toe and nail with different color combination. Maine coon originally comes from USA and the lifespan varies between 10 to 13 years, weigh about 9 to 15 pounds.
Ragdoll
Ragdoll one of the cute and blue eyes pet cat originated from USA. The cat has similarities with dogs because they love to roam around in the house with owner. They also get some color combination of Siamese but a little less dark in face side. It lives upto 12 to 15 years and weigh about 8 to 20 pounds.
American shorthair
American shorthair is another pure-bred round shaped face which has shorthair and intelligent habits. The cat quite similar looks of ordinary domestic cat, for this after 1966 it differs from other to locate exactly. The cats lifespan 10 to 15 years and weigh 10-20 pounds.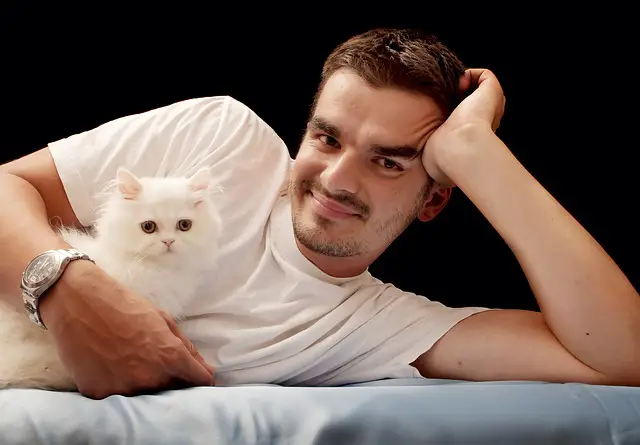 Siamese
Siamese is another popular cat breed in USA originally comes from Thailand. Remember the cartoon singing two Siamese cat that "we are Siamese" which is adorable kids' series from Disney world. It's a symbol how they intelligent and great at vocal too.
Some may doesn't know Siamese helped to create many other breeds like oriental shorthair, Himalayan, sphynx. Siamese looks like pointed area in mouth, foot, ears and tail. It lives 15 to 20 years and weigh about 8 to 15 pounds. The cat popular in US but you can see the cat roaming in the street of Thailand.
Exotic shorthair
Exotic shorthair is exactly another form of Persian with less fur and smashed face. The cat has the similar habits and color variation like Persian. Its lifespan 10-15 years and weigh 10-20 pounds.
Abyssinian
Abyssinian came from Ethiopia looks like simply and reserved looks with orange or red agouti coat. The cat lives of upto 9 to 15 years and weigh about 7-14 pounds which is pretty similar like other cat breed in USA.
Sphynx
Everyone who love heard the name of famous cat sphynx, yes, we are talking about the most charming cat I have ever seen. They look like skinny form without any fur and its super soft to touch. If you are looking for cat which don't need shed and grooming then sphynx is the perfect one as like having dog. Sphynx originated from Egypt, lifespan 9-15 years and weigh around 8-12 years.
Birman
And here is our next bird from Myanmar which is Birman that named after their origin places after. Birman also color pointed cat like Siamese and ragdoll, with long hair coats. Birman has beautiful habits and color as a pet cat and lifespan can upto 12-16 years and weight around 6-15 pounds.
Bengal
Bengal cat is another form of pet cat with their spotted tiger print on their whole body. It just looks like having a little panther in your home. But its not like tiger just a color variation, they are simply very gentle and domestic cat who can easily tame and train to potty. Many colors available and they need a lot of exercise. It lives up to 14 to 16 years and weight about 6 to 18 pounds.
To adopt wonderful cats you may like:
Unknown facts about cat:
https://www.buzzfeed.com/chelseamarshall/meows
Check out cat food guide to learn more about different types of cat food.