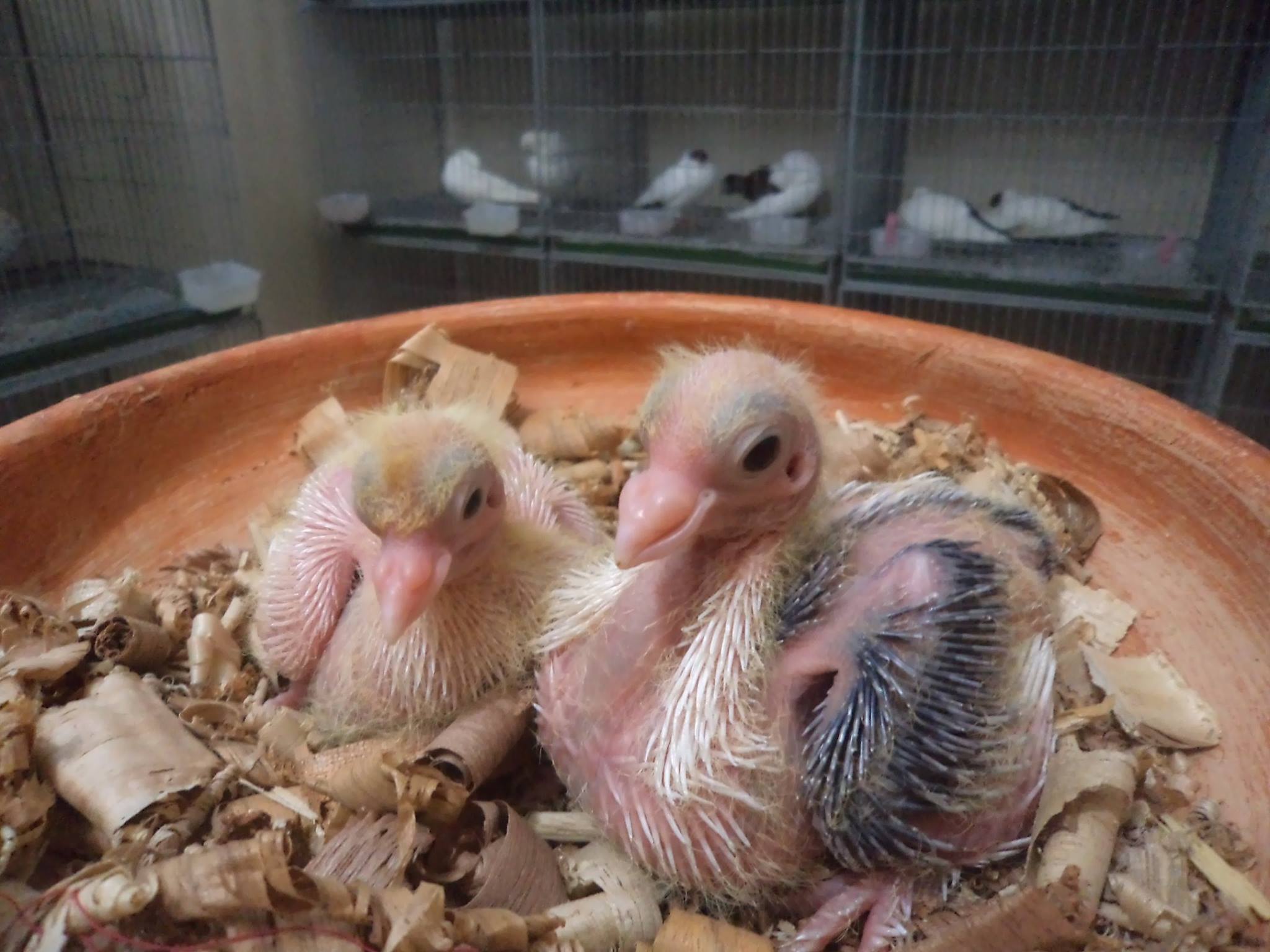 Baby pigeon are cute, sweet and soft when they hatch out from eggs. They are very sensitive cannot tolerate normal temperature coming out from eggs for first 5-7 days. So baby pigeon is needed the most after hatching out from eggs. Parents pigeon keeps them warm at the same process of hatching 24 hours.
They feed crop milk to their baby very carefully. New born babies cannot see when they born 5/6 days later eyes open then they can see everything.
You cannot imagine how fast they grow up for few days. The cute baby pigeon grows very fast taking crop milk from their parents which contains vitamin and nutrition God gifted.
Without crop milk vitamin and energy no new born baby can be grown up. Sometimes it is very difficult to save a baby when their parents cannot feed crop milk to them after 2/3 days later the baby dies without the milk.
There is no alternative of parents crop milk you cannot save a baby without feeding it. It's a natural process baby life depends upon their parents crop milk.
We should not disturb when new baby hatches out from eggs on that time especially mother pigeon gets very angry if someone touches their baby.
As we have no role after hatching out babies from egg just watch what's going on don't touch it's the best idea.
How to take care injured baby pigeon
In this article I will explain what should we do if the cute little pigeon baby gets injured. Their tender body cannot tolerate medicine and it's side effect.
After 5/6 days feeding milk babies grown ups quickly then parents pigeon do not sit always on the hatching pot to keep warm the babies automatically baby can tolerate the normal temperature.
When we touch the babies parents get angry they try to hurt us with their wings in this situation unintentionally they hurt their own baby.
Some parents pigeon remains excited when they feed babies father and mother pigeon fight each other to decide who is the winner to feed crop milk they two remains very eager to feed milk to the babies.
They babies get hurt with the parents claws and bleed sometimes for the fighting. Pigeon always do not understand their own good.
What should you do, you are the master of those pigeon and babies also. Will you go with detol, savlon or etc. antiseptic medicine to heal the babies?
Baby pigeon bodies are not so strong as adult pigeon, using high powerful medicine may cause skin burn or they cannot tolerate the medicine or it may be more painful to the little cute baby.
The ideal solution from my experience you can go with natural remedy.
Step 1: Collect some raw turmeric. If you cannot collect raw no problem you can use power turmeric but it should be pure.
Step 2: Make the raw turmeric into paste and take on a bowl. If you have no raw turmeric take some turmeric powder on the bowl, add some water and make paste.
Step 3: Take the baby birds and apply the paste on the injured area.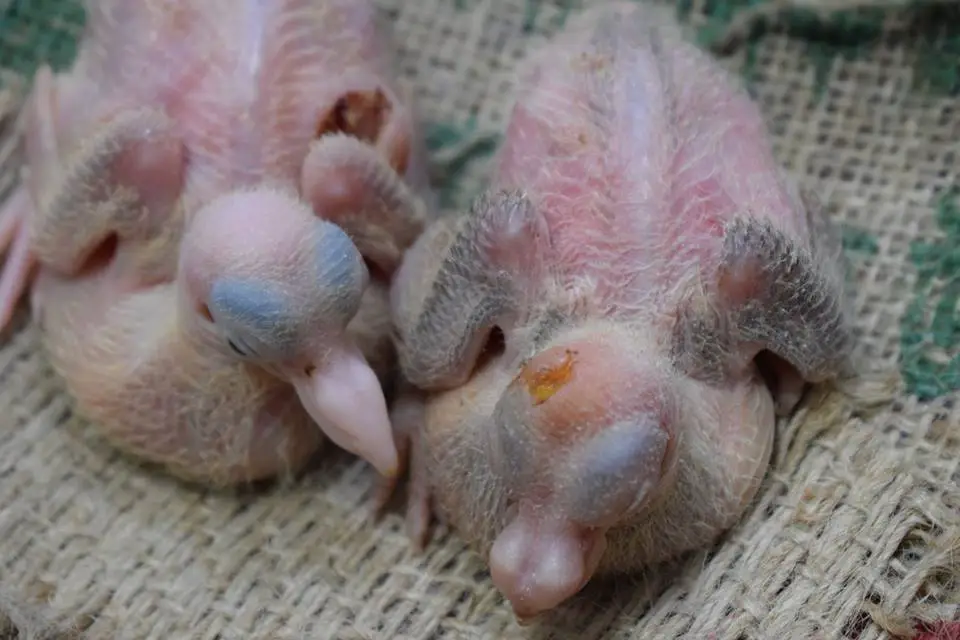 Figure: Injured baby pigeon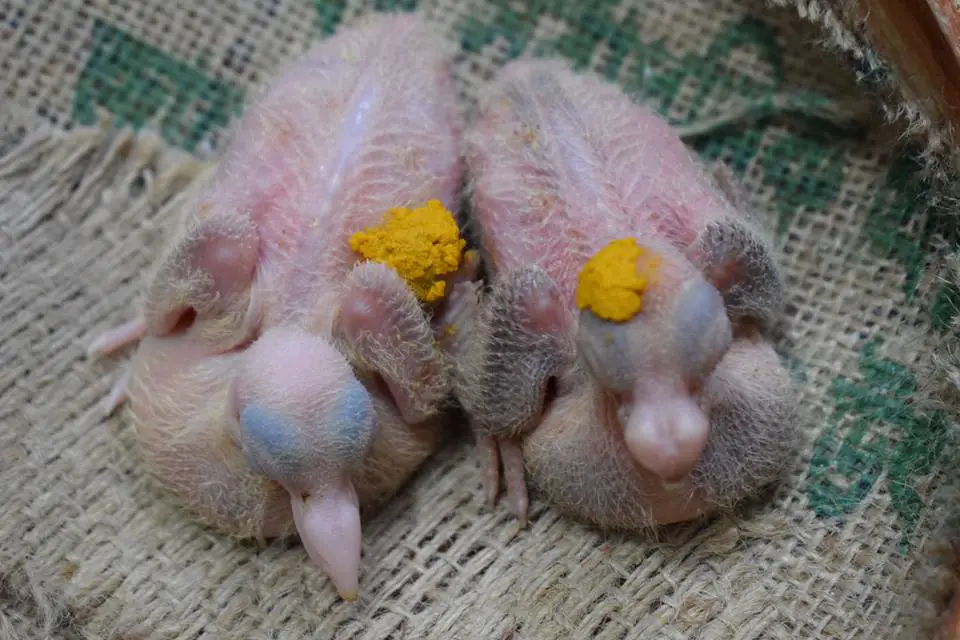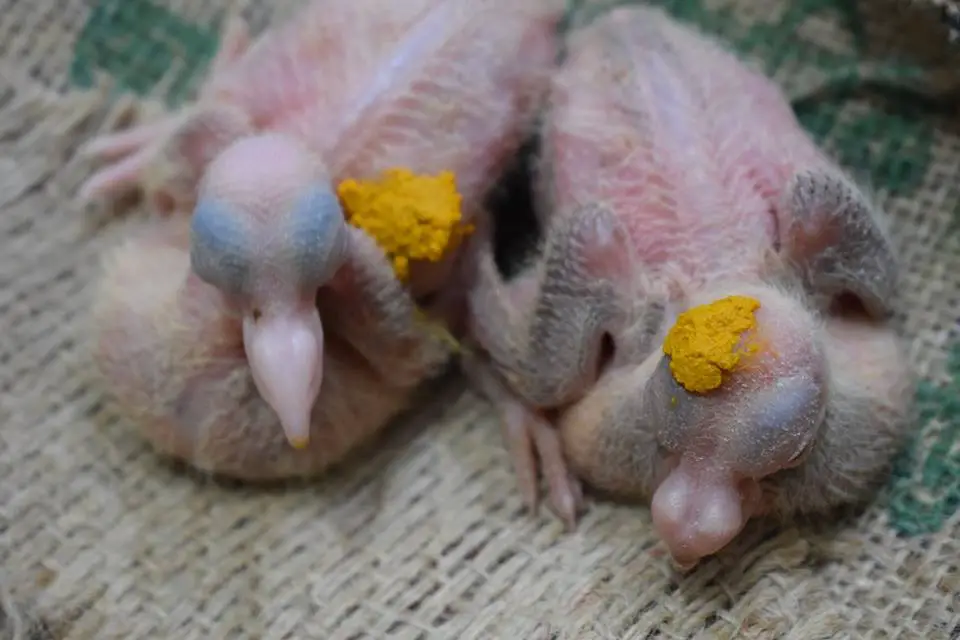 Figure: Treatment of injured baby pigeon with turmeric paste
One or two days later you will see the injured area will be started curing. In this way you can cure your baby pigeon very fast with natural way without giving them pain.
Apply the paste two days for  2 times a day on the injured surface.
All knows about the merits of turmeric. You do not know what to do when your bird will be injured. If it gets injured at the time when you cannot get medicine or where medicine is not available you can apply this process with friendly way.
Why this curing process is good? 5-10 days old baby pigeon skin is tender not able to tolerate high antiseptic medicine it may hurt or burn their tender skin which they cannot say please do not do that but you have to understand.
Birds are innocent baby birds are most innocent they do not understand their own goodness. We are their owner and friend we have to take care of their health.
After applying the turmeric paste few days later the skin will be dry and new skin will be placed removing the dry skin.
You will not determine the wound after one month when the bird will grow up to complete pigeon.
On my farm I always do the process to cure 4-15 days baby pigeon. I showed here two baby pigeons wounded and applied the turmeric paste.
One baby pigeon was Yellow spangle blonditte baby pigeon and another one German shield baby pigeon.
Applying the treatment, the two babies completely cured and they grown up well and now they are the parents of some baby pigeon.
Figure: One month later two injured babies
Figure: 6 months later the injured babies
Above four photos are those wounded little baby pigeons after 1 month and 6 months age.
From now you have no worry if your baby pigeon is injured. Not only baby pigeon can be healed with this process, you can apply this method to cure any types of birds such as cockatiel, parrot etc. birds.
Does there any side effect using turmeric?
Of course not. It has completely no side effect. You can use it without any hesitation. Although I am not a doctor I am farmer of pigeon and different types of birds.
I share ideas with my experience over 10 years and maximum technique I apply consulting with the veterinary doctor and expert farmer.
The best solution for applying any medicine take advice from veterinary doctor for any birds or animal.
In that case of injured baby pigeon you can use turmeric paste without any hesitation if you ask your veterinary doctor he will also suggest you to do that also tell you which I told you before that baby pigeon tender skin cannot tolerate antiseptic chemical.