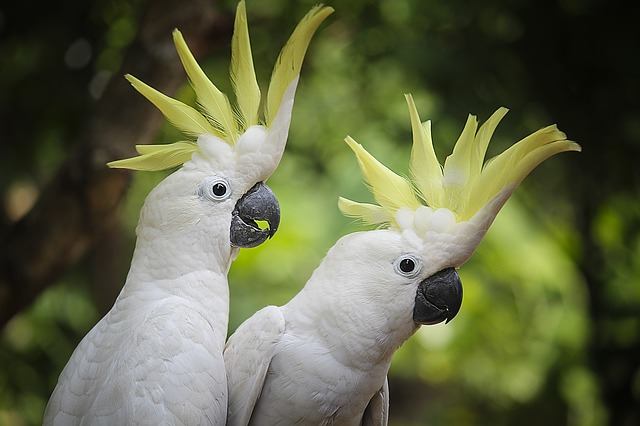 If I am not wrong you are planning to have a bird, so you reach that point after studying which bird will be perfect for you. Thinking to get a types of parrot, right? yes whenever it's come to the topic of bird, first image sketches on mind is definitely parrot. It's obvious because parrot species are the most colorful and charming bird on the world.
Though I am not an expert, but being a bird lover, I can tell you the basic things to have a parrot. And also introduce you some common species of parrot which will melt your heart within a second.
Types of parrot
And then I researched parrot's large family, I mean very very large and big family like my big & fat Greek wedding. It seems to me except few species, all birds are belonging to one and only parrot family.
They do, actually It's not like that kind of while I was studying, up my eyebrows when I saw the classifications of parrots. All the parrot beak birds I saw from my childhood still now they are like sisters and brothers, such as parakeets, lorikeet, macaw, cockatiel, cockatoo is from same species.
Around 400 species are there available and most of them are from Australasia which is amazing.
Now no more pep talk, below I brief in short some of common parrot which you see around and easy to handle as pet. First of all, I will show you my nephews picture took in Thailand with macaw that's so cutest picture for me.
He showed me that picture and said to me 'you like bird so I capture it for you', I am glad to share to my reader. There were lots of macaws on his shoulder, sorry to say I looked everywhere but I couldn't find out where the picture I kept.
When I will get then will post it. By the way below I described some of my parrots with image.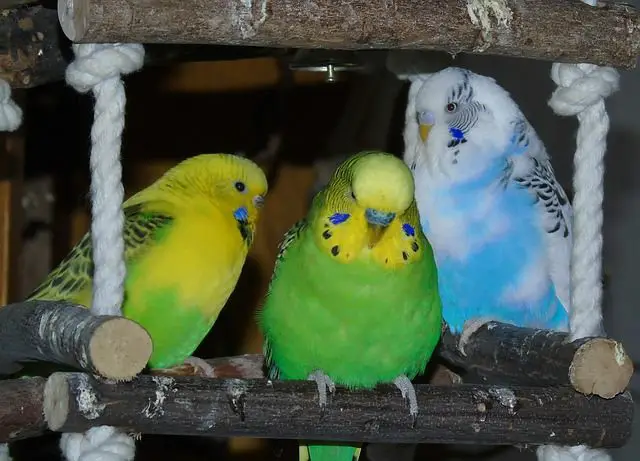 Parakeets or budgerigar
Parakeets is the smallest bird from parrot family, as we can see many bird lovers keeps them on balcony, because it is quite available, inexpensive and of course charming. Besides they are social and tame bird, they chirp all the time once I had them.
It feels like you are getting a vibe that you are in the middle of wild, the chirping just nostalgic. Parakeets also named budgerigar or budgies, it's a native language from Australia.
The bird is perfect for them who want parrot in a short size and love to tame because they learn quickly talk, whistle on an early age. The color is green with black shade and spotted, parrot beak that's a little description of its shape.
Now in these days mutation creates various color combination, as your desire go any of it. By the way budgies love companion so if you want one of them, make sure get a pair.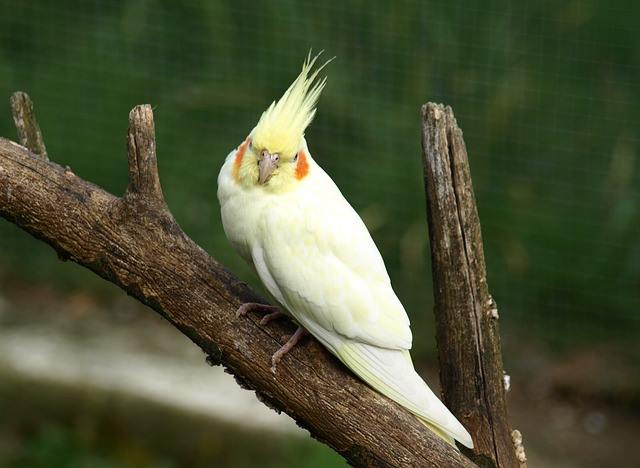 Cockatiel
Cockatiel – one of my favorite bird which is also next to member of parrot species. After budgies cockatiel another popular pet bird all over the world. Because the bird is very much taming and social, it can talk, sing, whistle, play whatever you want just train them.
They pick tricks very quickly, you will be amazed by the activities of cockatiel. Spending some quality times cockatiel feel passionate to owner. Grey with white shade and tiara makes cockatiel wonderful view as you can see anywhere.
From child to old everyone enjoys cockatiel playing time. Actually, they are highly responsive owner sounds and voice. Adjusting in a new place take time to socialize. Once fears fade away, they become friendly and mimic owner voice and play with toys.
To train them, wise idea is to get one on early age otherwise it's difficult to train large one. So, getting one cockatiel is perfect for pet, having two of them complicated, they will concentrate each other and give less interest to owner.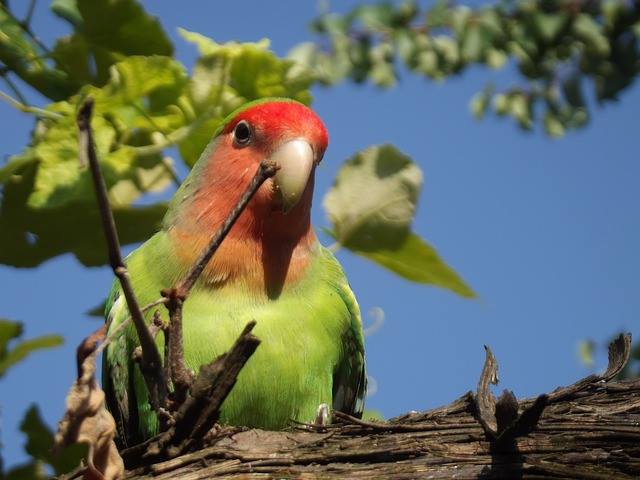 Lovebird
And now we are presenting you the gorgeous, wondrous and sensational – lovebird.  The name tells the history behind of naming the bird that means love forever. The bird is famous for its pairing attitude and personality.
Somehow if any mate die, the other one became crazy and wouldn't set pair with other easily, in some cases die with obsessed. Ow, that's really a strong bondage between two of lovebird. After all the discussion you may get that you have to buy a pair of lovebird.
Otherwise they won't talk with you and rage, just joking nothing will happen. Its fair thing to have a lovebird pair as though they love companion and feels relax when someone is there to share love.
If I describe the original lovebird color which is, the answer is green with peach faced, black faced, yellow faced. So, there are various lovebird on the world originated from Africa.
Pet or social word is not for them, it's actually depends on mood of lovebird thus they are so moody and love privacy, also fact how they catch tricks of owner.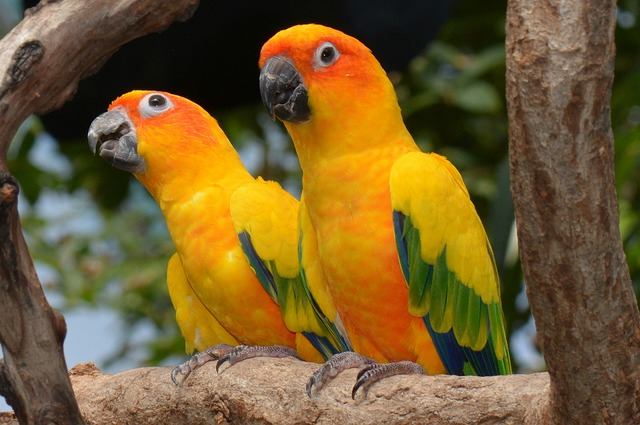 Conure
Conure – vivid, colorful and taming three qualification defines the bird. People love the parrot species among comparing other bird.
Lovely interaction makes Conure bold and curious towards owner. Thus, birds are needed much time to create bond with human. The bird plays with toys sometime enjoy hand feeding.
Conure are originated from Australasia. I think Australasia is the capital of colorful amazing birds. Still though I love all the parrot from Conure, besides many species some are special like example
Sun Conure, Genady Conure, Green cheeked Conure, Blue crowned Conure. Above all of, I love sun Conure for its friendly personality and striking appearance. As though I am lover of natures every color for the reason I just love every color of life and nature.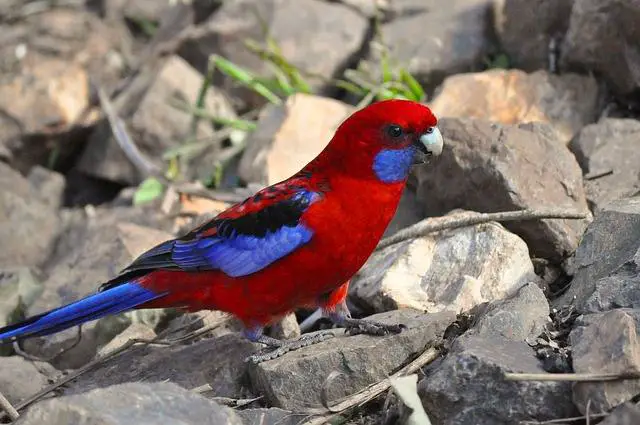 Rosella
Rosella kind of bright, colorful, vivid parrot species and one of my favorite. You might think all are your fav one why is that? Real fact is parrot any form on any appearance.
I am truly big fan of those. So, you can guess how much I love parrot especially when it comes to rosella. The bird is very tame and social, you can train it if constantly interact happen they will pick word quickly.
There are different kind of rosella bird available like eastern rosella, crimson rosella, western rosella. Within them eastern Rosella most charming and striking appearance wins owner heart conveniently.
I remember once I visited nearby bird breeder firm there I saw some red colorful bird with amazing view. By curiosity asked the breeder what is the name of this beautiful bird?
He said it is Rosella. Since then I fall in love with Rosella name and of course the bird also. I promise myself someday I will get one of these birds. Back then the range was quite much for me as though I was a student.
Now I am writing for my dream bird, still now haven't got any of them but one day I will get one, then guys I will show you picture. Wish me to have one someday on some moments.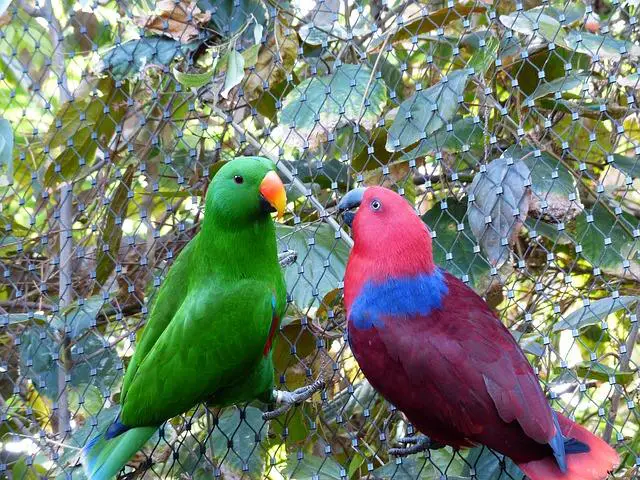 Electus
It's said that Electus male identified with a glance by its color, bright brilliant green, orange beak, red splash and blue under wings. The female is red with black beak and purple splashes.
On the other hand, most, parrot species are difficult to find out which is male and female. For Electus the fact is remarkable marking thus up eyebrows after seeing.
Nature of Electus is very friendly and social. Right interaction makes the bird perfect for children to play with. They love to stay with another companion and not so loud one like macaw or cockatoo.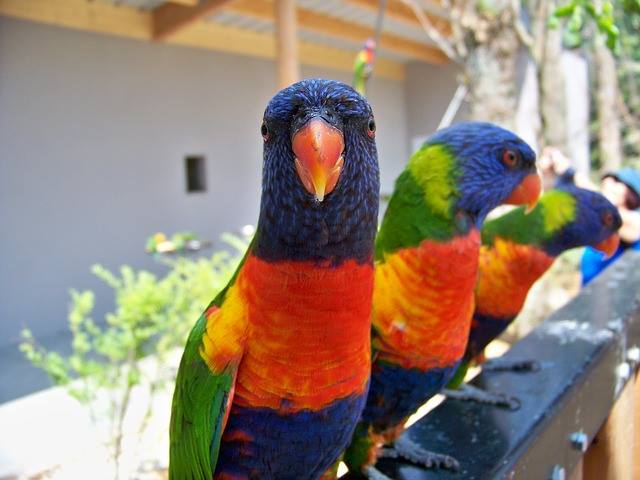 Lory or lorikeets
Lory – one of parrot family member with lots of color and size also known as lorikeets. They are kind of that types of parrots originated Australasia which is also the home of most their sisters and brothers.
The noticeable fact about lory is their diet habituate, they love to take flower nectar which energetic food supplement. As though they take liquid meal and they also poops liquid too from very far away that most interesting part of lorikeets. As a pet they do much like other parrot's stuff and not so quite.
If you are wondering to have one of lory, as a reminder I can say that lory is full of life and restless species and they love to engage anyhow on any process. Giving them toys and stuff is wise idea to keep them busy into their own life.
As we can see different types of lorikeets are out there, some are popular than other such as Red lory and my favorite one rainbow lory. Rainbow lory defines the name by itself as you can see the name. Others also named by its color, that's relief when try to remember one parrots name and species.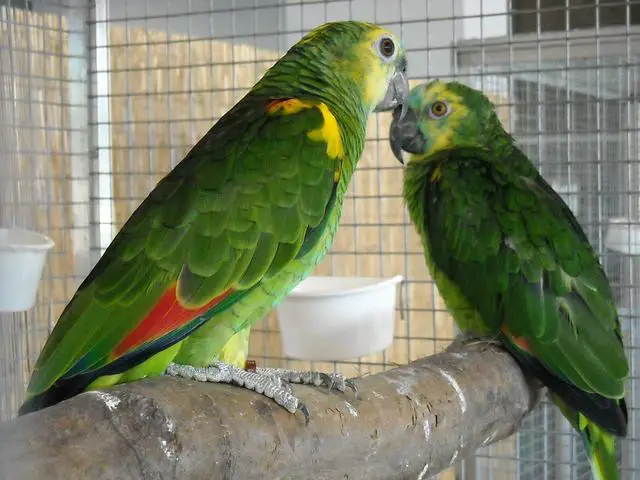 Amazon parrot
One of best taming bird is Amazon parrot. The bird is quite popular for its various color and bright personality. But before having amazon parrot you need the experience to handle those type of birds before.
The species quite hard to maintain and understand its demand when or what. Indeed they are captivated and social as a pet and perfect to interact with human. Blue fronted amazon, Red lored amazon, orange winged amazon, green cheeked amazon are some types of amazon parrot.
Rose Ringneck (Editors fav)
You may think why this parrot is favorite one, there is a short story behind of it. In my childhood I found a chick of rose Ringneck parrot on my balcony. I raised it like my child, every hour I checked the bird what it is doing or whatsoever.
Then suddenly one morning I found mouse ate it and cried a lot for my little bird. Since then it captivated my mind how beautiful they are and really sketches on my mind deeply.
Later I researched the birds name was rose ring neck parrot and it is a symbol of royal pet on Indian culture. Besides green color is my favorite and the red beak of male parrot is marvelous.
The bird is hard to tame and a few communicate with owner, become bored easily sometime chew own things. Good news is they love to play toys and if once love you then easily catch your point.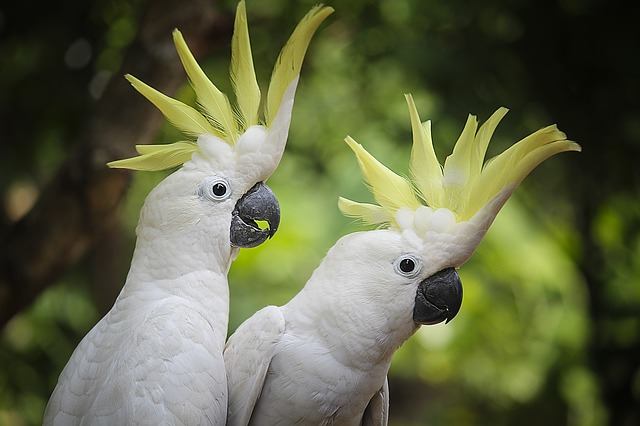 Cockatoo
Cockatoo is one of senior types of parrot and large parrot member of the family and also loud.  If you are willing to have a pet bird which will be devoted and you have enough time to give then go with it otherwise not good for you.
Because cockatoo not like other parrot species they create a deep bondage with owner. Sometimes if they can't see you for long time, they became obsessed and pull of feather, bite, chew cage to show anger.
Actually, the bird is for big apartment or house because they scream a lot and it may be heard from far mile away, that will be noisy for neighborhood. Many love them for their passionate to owner and activeness with people.
There are many types of cockatoo such as example, Bare-Eyed Cockatoo, Citron Cockatoos, Moluccan cockatoo, Sulphur Crested Cockatoos etc name as I recall.
My choice is Sulphur crested cockatoo because of the yellow crested on above the head. The Moluccan cockatoo is like royal crown wearing really fantastic creature.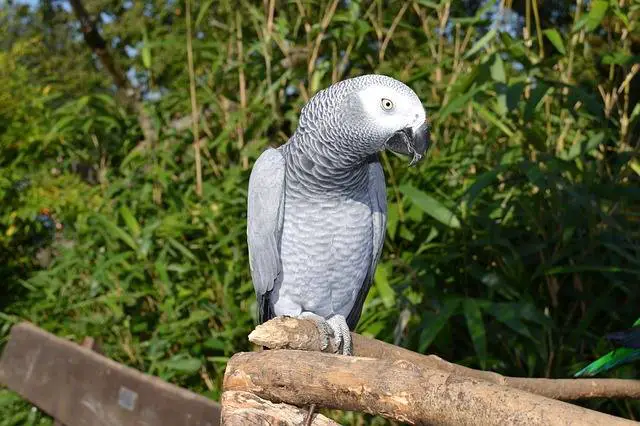 African grey
Here one of the most talented and talking personality bird I am briefing is African grey. The bird incredibly mimic voices and copy others word on real sentence.
They need lots of toys to show their intelligence and talking talent. It's also a species of parrot originally found on Africa area, some are from Congo, ivory coast, Kenya, Tasmania.
An experienced owner is must for African grey because the bird very sensitive and complex. Sometimes to understand the emotion seems complicated, so my opinion is only expert should pet the bird.
Macaw
Macaw the one large and big bird of parrot family with a large beak and long tail. Anyone can identify one macaw species by watching the gorgeous shape and size. Beautiful, majestic and intelligent, three quality combination is combined Macaw.
They are the famous and most recognizable bird on the world. It's not easy task to pet Macaw, there is so much maintenance to pet Macaw. Regular exercise and extra attention is needed for the bird. Once they familiar with owner, act like family member that's amazing.
Blue and yellow macaw, Scarlet macaw, red and green macaw, chestnut macaw, blue throated macaw are the common types of macaw we can see around the world. Blue and yellow Macaw is popular from others Macaw and the lifespan is upto 60 years thus a longtime bondage.
about types of parrots;
https://www.cdc.gov/healthypets/pets/birds.html
https://www.environment.nsw.gov.au/topics/animals-and-plants/native-animals/native-animal-facts/parrots